The social dinner will take place on September 13th at 20:30 at the roofgarden restaurant 'Les Etoiles', which is famous for its exquisite cuisine and for its 360° panorama of Rome. It is situated only a few steps from St. Peters basilica in Vatican City.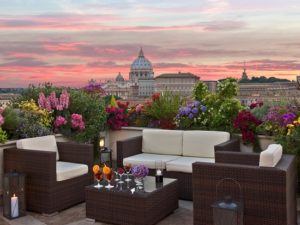 Reviewers of this restaurant describe it as a fabulous place: "if you are looking for excellent food in an impossibly beautiful location", especially for its breathtaking views at sunset. More reviews can be found in https://www.tripadvisor.com/.
For more information on the restaurant, please visit http://atlantestarhotel.com
Please note that prior reservation is required by the 12th of September. In order to make a reservation, please complete the form at the following link: RESERVATION FORM indicating for how many persons you would like to make a reservation. Payment (60€) is to be settled in cash on site at the registration desk.
The restaurant is situated within 10 minutes walk from Ottaviano metro station.
Menu of the social dinner:
Appetizers
Pastry basket with buffalo mozzarella
Smoked Scottish salmon with Modena balsamic vinegar dressing
Main course
Sea bass fillet in artichoke crust and flakes of pecorino romano cheese
Dessert
Creme caramel with star anise
Drinks
White wine Custoza di Sartori Veneto
Red wine Cabernet Sauvignon Carraia Umbria
Mineral water